Keep your relationships intact during career transitions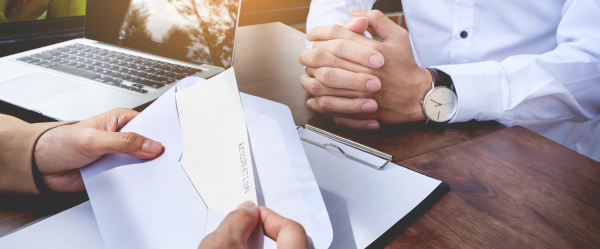 The last time we connected, we discussed best practices to avoid the lure of easy money, instead focusing on key elements of a new opportunity that sets you up for success in the short and long terms. Evaluating opportunities is just half the battle. In fact, navigating the transition process from your old role to your new one can be just as tricky. Now it's time to share how to best transition away from your current employer while keeping your existing professional relationships intact.
If you're ready to resign from your current role, go ahead and come to peace with the fact that tough conversations are ahead. The quicker you can accept the likelihood of discomfort, the smoother this process will be. Approach your supervisor and others you should notify immediately and keep the conversations brief. You want them to be short but sweet. Come ready with a letter of resignation and a transition plan in hand. Your supervisor may not choose to accept that plan, but at minimum it is a timely reminder that you still have the organization's best interests in mind.
Next, you need to agree on a suitable exit strategy that works for you and the organization. A standard timeline runs two weeks, but be prepared for the fact that your supervisor might choose to make your resignation effective immediately. It's also important to keep your emotions in check. Be empathetic to any negative or woeful responses you receive. Put yourself in their shoes: They're losing a valuable team member and perhaps a friend, so negative reactions are generally the first to be expressed.
There are many additional components to a successful resignation – including how to navigate counteroffers, discuss a resignation with subordinates, how to follow up with contacts you hope to keep in your network, and much more. To ensure you're ready to resign with optimal grace and effectiveness, download the Charles Aris Resignation Guide today.
To learn more about Greg Harper's executive recruiting efforts in the industrial manufacturing sector, call Greg at (336) 378-1818, extension 9123, or email him at greg.harper@charlesaris.com.